Hydraulic tube fittings Manufacturers in India
Hydraulic fittings, Hydraulic Ferrule Fittings, Hydraulic tube fittings Exporters in India
Hydraulic and pneumatic Suppliers in India
We are a impeccable Hydraulic tube fittings Supplier. Our offered Hydraulic tube fittings are available in a wide range. We offer a extensive variety of Hydraulic tube fittings. As Hydraulic tube fitting suppliers we ensure to make expeditious supplies within agreed lapse of time. Owing to the expertise of our proficiency and competent professionals, we are able to manufacture, export and supply an extensive stock of Hydraulic Tube Fittings. The offered tube fittings are widely used in many allied industries for proper fixing, arranging valve and further enterprises in transmission lines to contrive for potent liquid flow. Our bestowed tube fittings are legion in shapes and ambit according to the prerequisite of customer. These Hydraulic Tube Fittings can be accounted by our esteemed clients at feasible prices.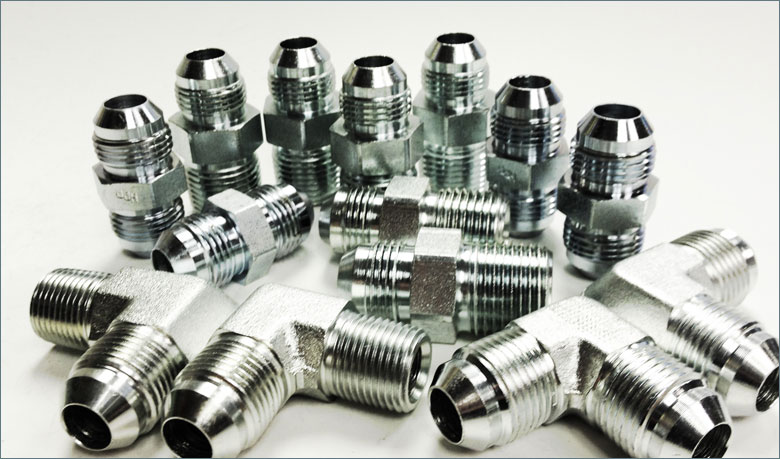 Randhir Metal is the Global manufacturer & supplier of Hydraulic tube fittings. We have a broad range of Compression Tube Fittings like biopharm fittings, dielectric fittings, flange fittings, flare fittings, pipe fittings, vacuum fittings, pneumatic fitting, metric one touch fittings, fitting manifolds, weld fittings and more. We are supplying Hydraulic tube fittings, SS Pipe Fittings, SS Flanges & SS Fasteners to Iran, Saudi Arabia & UAE etc.

Randhir Metal is India's oldest Tube Fittings | Hydraulic tube fittings Manufacturer in India. Our Two ferrule tube fittings are designed and manufactured to meet the rigorous specifications required of industrial applications.

Randhir Metal offers a large selection of Hydraulic tube fittings in standard and metric sizes. Ready to use, compact, one-piece fittings for use with most steel pipe, tube & tubing.


Available Hydraulic tube fittings
Types Of Hydraulic tube fittings
TUBE TO TUBE
DU - STRAIGHT UNION
DL - UNION ELBOW
Size : OD (Tube ) 4mm To 42 mm. ( L Series & S Series ) 
Working Pressure : 300KG


Size : OD (Tube ) 4mm To 42 mm. ( L Series & S Series )
Working Pressure : 300KG


DUR - REDUCING UNION
DC - UNION CROSS
Size : OD (Tube ) 4mm To 42 mm. ( L Series & S Series ) 
Working Pressure : 300KG


Size : OD (Tube ) 4mm To 42 mm. ( L Series & S Series ) 
Working Pressure : 300KG


DTR - REDUCING TEE
DBU - BULKHEAD UNION

Size : OD (Tube ) 4mm To 42 mm. ( L Series & S Series ) 
Working Pressure : 300KG

Size : OD (Tube ) 4mm To 42 mm. ( L Series & S Series ) 
Working Pressure : 300KG


DBL - BULKHEAD UNION ELBOW
Size : OD (Tube ) 4mm To 42 mm. ( L Series & S Series ) 
Working Pressure : 300KG




TUBE TO FEMALE PORT
DOM U/M - UNF CONNECTOR(UNF/METRIC)WITH O-RING
DMC - R - MALE CONNECTOR (BSP TAPERED)
Size : OD (Tube ) 4mm To 42 mm. ( L Series & S Series ) 
Connections : ( BSP & NPT ) Male & Female 
Size : 1/8 To 2 
Working Pressure : 300KG


Size : OD (Tube ) 4mm To 42 mm. ( L Series & S Series ) 
Connections : ( BSP & NPT ) Male & Female 
Size : 1/8 To 2 
Working Pressure : 300KG


DMC G MALE CONNECTOR (BSP PARALLELED)
DMC GED MALE CONNECTOR (BSP PARALLELED) WITH ED RING
Size : OD (Tube ) 4mm To 42 mm. ( L Series & S Series ) 
Connections : ( BSP & NPT ) Male & Female 
Size : 1/8 To 2 
Working Pressure : 300KG


Size : OD (Tube ) 4mm To 42 mm. ( L Series & S Series ) 
Connections : ( BSP & NPT ) Male & Female 
Size : 1/8 To 2 
Working Pressure : 300KG


DMC - MED - MALE CONNECTOR (METRIC)WITH ED - RING
DMC - N - MALE CONNECTOR(NPT)
Size : OD (Tube ) 4mm To 42 mm. ( L Series & S Series ) 
Connections : ( BSP & NPT ) Male & Female 
Size : 1/8 To 2 
Working Pressure : 300KG


Size : OD (Tube ) 4mm To 42 mm. ( L Series & S Series ) 
Connections : ( BSP & NPT ) Male & Female 
Size : 1/8 To 2 
Working Pressure : 300KG


TUBE TO MALE THREAD
DFC G/M - FEMALE CONNECTOR(BSP PARALLELED/METRIC)
Size : OD (Tube ) 4mm To 42 mm. ( L Series & S Series ) 
Connections : ( BSP & NPT ) Male & Female 
Size : 1/8 To 2 
Working Pressure : 300KG


TUBE TO TUBE PORT (ADJUSTABLE FITTINGS)
DLA - ADJUSTABLE ELBOW
DBTA - ADJUSTABLE BRANCH TEE
Size : OD (Tube ) 4mm To 42 mm. ( L Series & S Series ) 
Working Pressure : 300KG


Size : OD (Tube ) 4mm To 42 mm. ( L Series & S Series ) 
Working Pressure : 300KG


DRTA - ADJUSTABLE RUN TEE
DEL - SWIVEL ADJUSTABLE RUN TEE
Size : OD (Tube ) 4mm To 42 mm. ( L Series & S Series ) 
Working Pressure : 300KG


Size : OD (Tube ) 4mm To 42 mm. ( L Series & S Series ) 
Working Pressure : 300KG


DKOR - STAND PIPE REDUCER
DRED - SWIVEL REDUCING TUBE ADAPTER
Size : OD (Tube ) 4mm To 42 mm. ( L Series & S Series ) 
Working Pressure : 300KG


Size : OD (Tube ) 4mm To 42 mm. ( L Series & S Series ) 
Working Pressure : 300KG



TUBE TO FEMALE THREAD
DA-GED/MED - ADAPTER (BSP PARALLELED/METRIC) WITH ED-RING
DEGE - G/M - SWIVEL ADAPTER (BSP PARALLELED/METRIC) WITH ED-RING
Size : OD (Tube ) 4mm To 42 mm. ( L Series & S Series ) 
Connections : ( BSP & NPT ) Male & Female 
Size : 1/8 To 2" 
Working Pressure : 300KG


Size : OD (Tube ) 4mm To 42 mm. ( L Series & S Series ) 
Connections : ( BSP & NPT ) Male & Female 
Size : 1/8 To 2" 
Working Pressure : 300KG


TUBE PORT TO TUBE PORT
DUE - SWIVEL UNION
Size : OD (Tube ) 4mm To 42 mm. ( L Series & S Series ) 
Working Pressure : 300KG


WELD FITTINGS
DAS- WELDING CONNECTOR
DASK - WELDING CONNECTOR
Size : OD (Tube ) 4mm To 42 mm. ( L Series & S Series ) 
Connections : ( BSP & NPT ) Male & Female 
Size :1/8 To 2 
Working Pressure : 300KG


Size : OD (Tube ) 4mm To 42 mm. ( L Series & S Series ) 
Connections : ( BSP & NPT ) Male & Female 
Size :1/8 To 2 
Working Pressure : 300KG


DAK- WELDING NIPPLE
Size : OD (Tube ) 4mm To 42 mm. ( L Series & S Series ) 
Connections : ( BSP & NPT ) Male & Female 
Size :1/8 To 2 
Working Pressure : 300KG


SPARE PARTS
DLN- BULKHEAD LOCK NUT
DLN - BULKHEAD LOCK NUT
Size : OD (Tube ) 4mm To 42 mm. ( L Series & S Series ) 
Working Pressure : 300KG


Size : OD (Tube ) 4mm To 42 mm. ( L Series & S Series )
Working Pressure : 300KG


DKA - SEALING RING FOR DWH/DTH & DSWVE
DKI - SEALING RING FOR DGC/DGE & DGA
Size : OD (Tube ) 4mm To 42 mm. ( L Series & S Series ) 
Working Pressure : 300KG


Size : OD (Tube ) 4mm To 42 mm. ( L Series & S Series ) 
Working Pressure : 300KG


KP - B - S -ED-RING
KP - B - S - O RING
Size : OD (Tube ) 4mm To 42 mm. ( L Series & S Series ) 
Working Pressure : 300KG


Size : OD (Tube ) 4mm To 42 mm. ( L Series & S Series ) 
Working Pressure : 300KG


DS - CUTTING RING
Size : OD (Tube ) 4mm To 42 mm. ( L Series & S Series ) 
Working Pressure : 300KG


Available price Hydraulic tube fittings
Different Types of Hydraulic tube fittings
Locate our dealers & distributors in following Countries, Cities
| | | |
| --- | --- | --- |
| Indonesia | Malaysia | Singapore |
| Vietnam | Philippines | United Arab Emirates |
| Saudi Arabia | Iraq | Iran |
| Turkey | Egypt | Oman |
| Kuwait | Qatar | Bahrain |
| Nigeria | Kenya | Tanzania |
| South Africa | United States of America | Canada |
| Italy | Netherlands | Germany |
| Mexico | Australia | New Zealand |
Mumbai, Lucknow, Coimbatore, Imphal, Mysore, Ratlam, Delhi, Kanpur, Darjeeling, Jalandhar, Nagpur, Solapur, Kolkata, Allahabad, Dehradun, Jammu, Nashik, Srinagar, Chennai, Ahmedabad, Faridabad, Jamshedpur, Nellore, Surat, Bangalore, Chandigarh, Ghaziabad, Jhansi, Patna, Siliguri, Hyderabad, Amritsar, Noida, Kochi, Pune, Thiruvanthapuram, Jaipur, Aizawl, Guwahati, Kozhikode, Raipur, Vishakhapatnam, Jabalpur, Bhopal, Gwalior, Ludhiana, Rajahmundry, Thane, Agra, Bhubaneshwar, Gurgaon, Madurai, Rajkot , Varanasi, Bhilai, Haridwar, Meerut, Ranchi, Ahmednagar, Akola, Amravati, Aurangabad, Baramati, Beed, Bhandara, Bhiwandi, Buldhana, Chandrapur, Chimur, Dahanu, Dhule, Dindori, Erandol, Gadchiroli, Hatkanangle, Hingoli, Ichalkaranji, Jalgaon, Jalna, Karad, Khed, Yavatmal, Kolaba, Kolhapur, Kopargaon, Latur, Malegaon, Mumbai, Nagpur, Nanded, Nandurbar, Nashik, Osmanabad, Pandharpur, Parbhani, Pune, Rajapur, Ramtek, Ratnagiri, Raver, Sangli, Satara, Shirdi, Shirur, Solapur, Thane, Wardha, Washim, Andhra Pradesh, Jammu and Kashmir, Nagaland, Uttarakhand, Haryana, Lakshadweep, Arunachal Pradesh, Jharkhand, Odisha, West Bengal, Himachal Pradesh , Assam, Karnataka, Punjab, Andaman and Nicobar Islands, Puducherry , Bihar, Kerala, Rajasthan, Chandigarh, Meghalaya , Chhattisgarh, Madhya Pradesh, Sikkim, Dadar and Nagar Haveli, Mizoram , Goa, Maharashtra, Tamil Nadu, Daman and Diu, Tripura, Gujarat, Manipur, Telangana, Delhi, Uttar Pradesh